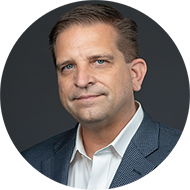 CEO, NewEdge Capital Group | Chief Operating Officer, EdgeCo Holdings
Mr. Schneider has spent over 30 years working on the forefront of the FinTech space and leading the operations of some of the largest financial intermediary companies in the industry. He has a long track record of launching successful new businesses inside large companies as well as pure startups with a common thread of leveraging technology to allow financial partners to grow their businesses faster and make them more successful.
Mr. Scheider began his career at the financial technology firm SunGard Data Systems. Over the course of his 15 years with SunGard, he rose up from a software tester to holding one of the top executive positions as Group CEO of SunGard Financial Networks. In 2004, Mr. Schneider helped form what is known today as Mid Atlantic Trust Company, creating a new level of sophistication in trading and custody services for third party administrators' and registered investment advisors' clientele. Mid Atlantic ultimately served as the cornerstone for the launch of NewEdge parent company EdgeCo Holdings in 2018.
In addition to serving as CEO of NewEdge Capital Group, Mr. Schneider serves as Chief Operating Officer of EdgeCo Holdings. He serves on the Executive Committee of its board as well as the boards of its various operating subsidiaries.